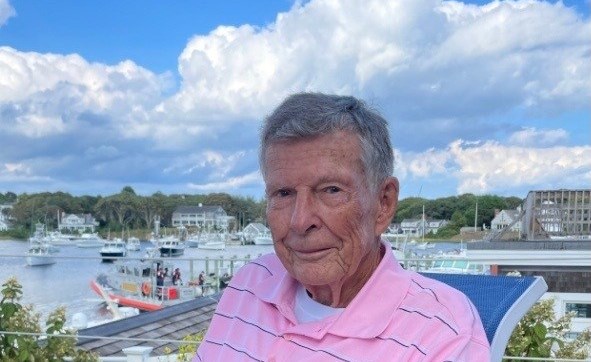 Donald Fales Everett, 89, of Vero Beach, Florida passed away at the Cape Cod Hospital on 9/16/2022, after a brief illness. In his last days he was surrounded and cared for by his loving children and their spouses.
He was born in Norwood, MA on 10/10/1932 to Shirley and Carl P. Everett. He had been a resident of Vero Beach for 21 years coming from Harwich MA, Dover MA and Needham, MA. Don attended Phillips Andover Academy and Williams College. At Williams Don enrolled in R.O.T.C., was an active member of Chi Psi Fraternity, played Varsity Lacrosse and graduated with an economics degree in 1955.
After his graduation from Williams, he married the love of his life, Cherie L. Irwin. Soon after his marriage, he started his military service as an officer in the United States Air Force reaching the rank of Second Lieutenant as a munitions officer.
After his discharge from the Airforce, Don started his professional career briefly as a banker before embarking on a 35-year career with IBM. At IBM Don was the Senior Sales Executive, Team Leader, and mentor in the Boston Central Branch Office during the heyday of IBM. He led the account growth strategy at the largest and most sophisticated clients during a time when information technology was emerging and advancing rapidly. He lived through and helped drive the acceptance of mainframe back-office computing, new innovations in delivering high performance network services, and the revolution resulting from the introduction of personal computers. Don was a visionary leader with a clear view of client's needs and IBM's technology solutions. Following the divestiture of AT&T, Don was instrumental in helping New England Telephone navigate a complicated separation process requiring new information technology systems and solutions through to Verizon, resulting in one of IBM's top five client accounts in the country. He was a gifted communicator trusted by his IBM team as well as client executives. His work ethic and success resulted in annual attendance at IBM's premier recognition event The Golden Circle, which celebrates exemplary performance by the top 1.5% of IBM's sales and service staff.
During his career he also volunteered his time to many worthy causes including Needham Planning Board member, Needham Youth Soccer Coach, Emergency Medical Technician EMT for the Town of Dover, and serving as President of the Dedham Country and Polo Club.
During retirement he volunteered at the Environmental Learning Center in Vero Beach, served as President of The Moorings at Hawks Nest and became a PGA Certified Rules Official especially enjoying officiating U.S. Junior Amateur events.
He was a past active member of the Dedham Country and Polo Club, Harwich Port Tennis Association, Stone Horse Yacht Club, Sea Oaks, Oak Harbor, The Moorings at Hawk's Nest, Needham Tennis Club and Pemigewasset Ski Club.
He was an avid and accomplished, golfer, skier, bridge player and tennis player. Don had a deep love for fishing that started with his father at a young age and continued during Cape Cod summers on his son Mike's fishing boat where he was fondly known as the "Admiral". Don was the happiest with Cherie and the family on Cape Cod, beaching it with the grandchildren, fishing for blue fin tuna, hauling in lobster traps, family doubles at HPTA, sinking a birdie putt and enjoying family gathering for meals.
Don was predeceased by his loving wife Cherie and is survived by his son Michael (Laura) Everett; daughters Lisa (Jim) DiMarzio; Kris (Rick) Stewart; grandchildren; Leigh Everett (Pete) LaFontaine, Carl (Mandi) DiMarzio, Matt DiMarzio, Cristina DiMarzio, Ashley Stewart, Mallory Stewart; Great Grandson, Connor DiMarzio; sister Shelley Richardson.
A celebration of his life will be held and a later date with his extended family and friends. With great appreciation, our family would like to recognize the exceptional care and support that Dad received from the health care providers at the Cape Cod Hospital.
Condolences may be shared online at www.nickersonfunerals.com. In lieu of flowers, memorial donations can be designated to the Environmental Learning Center, 255 Live Oak Drive, Vero Beach, FL 32963 or to the Williams College Alumni Fund, 75 Park Street, Williamstown, MA 01267.